A day in the life: virtual v. blended
Deadline for switching learning models is Nov. 6
November 6, 2020
Fall 2020 looks different this year with the blended and virtual models.
Although this school year is not ideal, there are still some benefits and drawbacks of each model. With the two models introduced, Louisa County Schools give students the option to choose the model that suits their situation best and obtain their education safely in the most efficient ways possible. Conner Nelms, a freshman who has chosen to go all-virtual, says that "an advantage to virtual is having the ability to 'bust out' all of your work in a couple of hours". On the flip side, the disadvantages start when the internet comes into play. Many people across the county have internet problems and doing school online may be a struggle. The adjustment to a whole new school style has been a rollercoaster, to say the least.   Some of the benefits of having these new models is that it gives more time for students to do their schoolwork and more time for extracurriculars.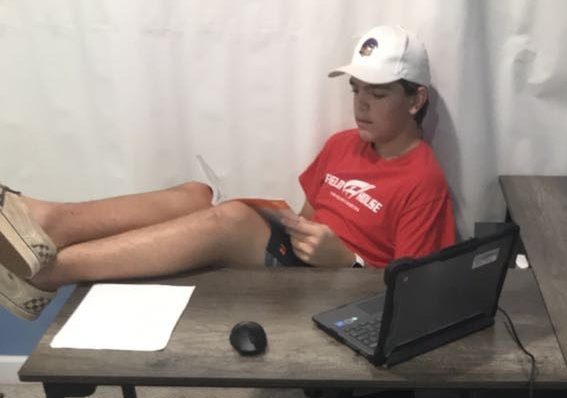 Freshman Conner Nelms gives us an inside look on what virtual school really looks like.
  "An advantage to virtual is having the ability to 'bust out' all of your work in a couple hours."
  Even from home, each morning, Nelms wakes up at around 7:15 to get ready for the "school day" ahead of him.
  Nelms says that he follows a loose schedule that morphs to fit his needs during the day. Since he has control over his day, Nelms can get his schoolwork done in three to four hours everyday.
  When Nelms starts his schoolwork at 8 a.m., he goes from English, spanish to science, and finishes it off with his Algebra 2 work.
  Nelms usually completes all of his schoolwork by 1 p.m., but not without lunch.
  "I usually stop for snacks/lunch between switching which class I am working on," Nelms said.
  After his work is done, and he has had a bite to eat, he double checks everything over to make sure that he's not missing anything.
  After he is done with all of his schoolwork, he has the rest of the day to himself.
  With that free time, Nelms "plays Xbox and soccer, and does chores" while at home.
  While he has his schoolwork to take care of, he also has a little sister to keep an eye on.    
Since Nelms is an all virtual student, he doesn't get much face to face contact with his teachers or classmates, and especially his friends.
  "I miss my friends, especially hanging out at lunch," Nelms said.
  Under current circumstances, Nelms feels like the virtual model was the best method for him to acquire his education.   
  Regardless of the fact that Nelms has chosen the virtual model, he misses some of the perks of being in school.
  "Virtual is so different, you can't really compare them, but if I had to pick, I would definitely go with in-person school, just because you get to see your friends," Nelms said.
Leave a Comment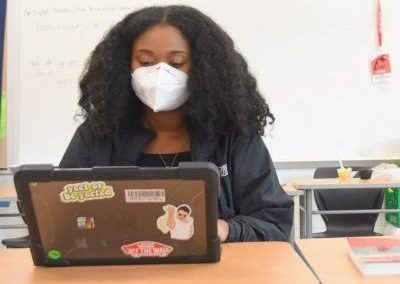 Senior Shayla Holliday chose the blended model this year and tells us about how it has affected her and her last year as a high school student.
  Right now, her school day  goes from 8:03 a.m. to 3:25 p.m. in the afternoon.
  Her day consists of  a few electives, and her core classes for this semester.
  Holliday is an "A" day student, so she goes to school on Mondays and Thursdays during the week, and continues her schoolwork from home on Tuesdays, Wednesdays and Fridays.
  Because of the new schedule blended students are on, Holiday feels like her time is more flexible and gives her time to do her schoolwork.
"[My schedule is] regular… and for the most part it is a breeze," Holiday said.
  With all of the new free time given with being a blended student, she has time to do things in her life she couldn't do before.
  She says it's "easy to balance" her school day with her other day-to-day activities.
  Even though this school year seems to be going well for Holiday, she still has some big decisions lingering after high school.   
  Holiday plans on going to college after school.
  "This is my last year, and it's a big deal to me to prepare myself for college," Holiday said.
  However, college is not the only way that she has been affected by these new changes. She has been affected socially because she cannot see her friends during the school day.
  Despite all of the new changes being thrown her way, Holiday has kept her head and will persevere through her senior year.
  "It's a new adjustment, and I've gotten used to it, so it should be a good year," Holiday said.
Leave a Comment