Louisa alum leaves footprints in Minnesota
January 27, 2021
  Louisa grad and newspaper alumni Annabelle "AB" Anderson is making her mark out west at an off-grid dog sledding lodge in Hovland, Minnesota. AB leaves a recognizable path everywhere she goes, and, attesting to this, The Lion's Roar wanted to take a moment to brag on her a little bit. 
  As COVID-19 began to spread throughout the United States, AB decided that going to college wasn't the best fit for her. Because of this and due to her free-spirited nature, she set out to find a job in one of the national parks.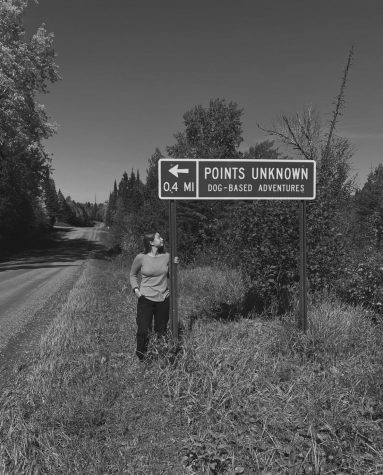 AB first applied for a dog sledding position in Denali, Alaska; however, as a result of her lack of experience and the pandemic, she was encouraged to apply elsewhere to seek hands-on experience. She then applied for a position at Points Unknown and now describes it as "the greatest decision of [her] life." AB was offered an intern position and accepted it right away. Without thinking twice, she packed up her life and moved halfway across the country to a little town less than an hour away from the Canadian border in Northern Minnesota.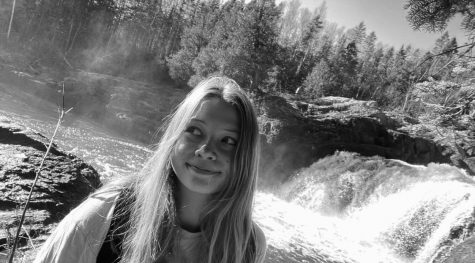 "After I applied I realized there wasn't anything else on this planet that I wanted to do," AB said. "It's crazy to think about it now, but I had never really thought of dog sledding and how cool it was."
  AB spends her days caring for 25 Hedlund Huskies and loving every minute of it. She also works on a blog that she created about her daily experiences at the lodge on the Points Unknown Facebook page. 
  "I'll say a little bit of my writing comes from just being in such an amazing place, but the true feelings that bring me to write come from the dogs," AB said. "These dogs are just all around amazing animals, their personalities are just like yours and mine. They have taught me so much already about the world and who I am as a person."
  AB has learned so much in the few short months she has spent in this unmarked territory that she now gets to leave her mark on. Be sure to check out her blog on Facebook @pointsunknowndogsledding where she posts every Friday.