The undefeated Lady Lions set out to make a memorable season
February 4, 2021
 For those of you who have not been able to keep up with sports this winter, you are missing out. The Lady Lions basketball team has exploded onto the scene this year, with sophomore standouts Olivia McGhee and Sylvie Jackson leading the way. 
  However, the team has proven to be more than just the two young stars, and their depth has come into play on multiple occasions. In the Feb. 2 matchup versus Western Albemarle, everyone stepped up despite two key players Olivia McGhee and Emion Byers being out due to injury. The girls rolled on to beat the Warriors 64-38 while shooting an impressive 61% from three-point land.
   "Each player has grown and improved their game since last season. With the addition of Sylvie [Jackson], our team has really come together as a unit," senior guard Lydia Wilson said. 
  The Lions remain undefeated so far 11-0 and are currently ranked number one in the district as well as third in the region. The Lady Lions have averaged 70 points per game this season, including an 89-point performance versus Albemarle on Jan. 22. 
  Dominating on all ends of the court, the Lady Lions have become the team to beat.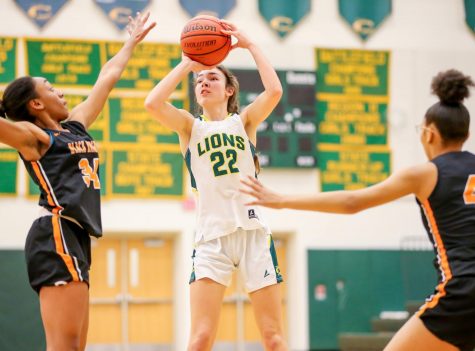 Coach Nick Schreck has now led his second team to a district title since taking over the program in 2015 and is happy with where the team is headed this season.
  "We always want to play our best basketball at the end of the season and I feel like we are trending in the right direction. We have put ourselves in a position to have home-court advantage [during regionals] as long as we take care of business [Friday]," said Schreck.
  Louisa's girls' basketball program has never won a state championship and the last region title was in 1997. Post-season gameplay is critical. After picking up the win on Friday, Feb. 5 versus Orange, the girls are set to roll onto the regional playoffs which kick off in the den on Feb. 9 at 7 when the Lions go head to head with Patrick Henry. 
  Get tuned into the action as the Lady Lions continue throughout the post-season by checking out the @louisa_lions_athletics Instagram page for live game updates and streaming details.  
  Fans also make sure to follow Scrimmage Play on social media or check out their site for the latest in Central Virginia high school sports.