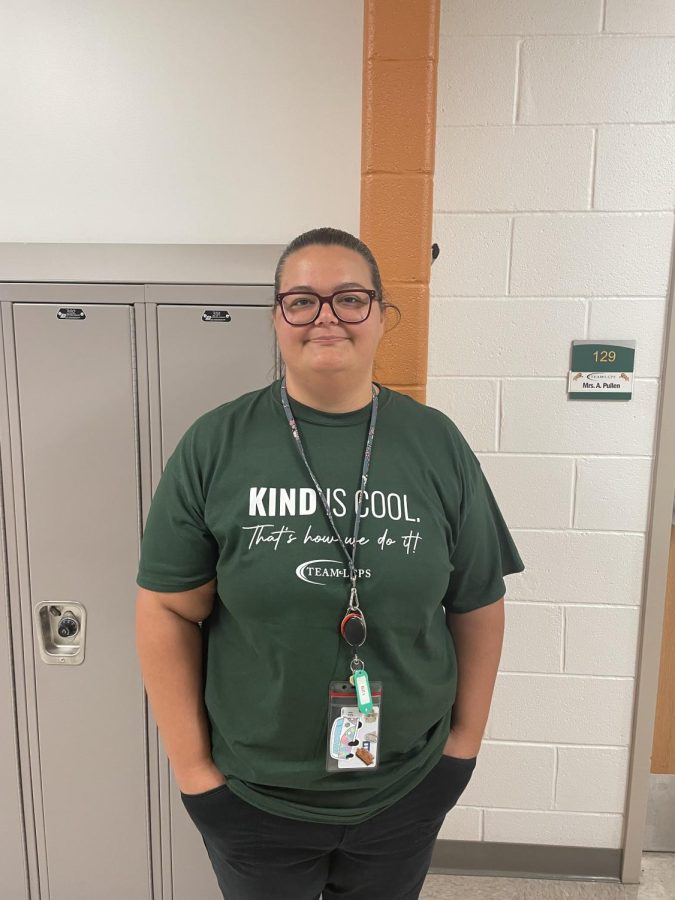 Ashley Pullen
   Last year, Ashley Pullen worked behind the desk in the library. This year, Pullen became a self-contained special education teacher. She originally wasn't planning on becoming a teacher and was actually working on her counseling degree through Grand Canyon University. But new opportunities arose. 
  Pullen chose to become a teacher because of the positive atmosphere that surrounded her. Now in the classroom, Pullen is excited to watch her students meet their goals over the school year.
  "This year, I am looking forward to growing and getting more resources and opportunities for my students," Pullen said. "I'm excited to get them out into the community more and learn more locational things."
  Pullen looks forward to trying new techniques this year and recognizes how she will need to adapt her teaching to each of her students.  
  "The most challenging part of teaching is finding a balance of trying to make sure that each individual student has what they need in order to succeed." Pullen said. 
  With these challenges, comes reward. Pullen loves to see the progress in her students.
   "The most rewarding part of teaching is watching the students grow as the year goes on,"Pullen said. "Because of who my students are, success makes them so excited and that makes me excited." 
   Pullen has two instructional assistants who help her in the classroom daily. These IA's make the learning environment even better for the students and give them many opportunities for help. Pullen is appreciative of her assistants and everything they do.
  "My IA's, Ms. Boston and Ms. Thompson are my life savers," Pullen said. " They provide essential help to my students."
   Having instructional assistants in the classroom is a key factor for Pullen when creating a positive learning environment for her students.
  "My favorite thing about Ms. Pullen's teaching style is the way that she allows my teaching style in the mix as well." Thompson said.
   This is such an important factor in a productive classroom. It allows ideas to be shared with overall growth between the teachers and the students in the class.
  Pullen is not only helping her students succeed, but also her colleagues work towards achieving  their goals.
Donate to The Lion's Roar