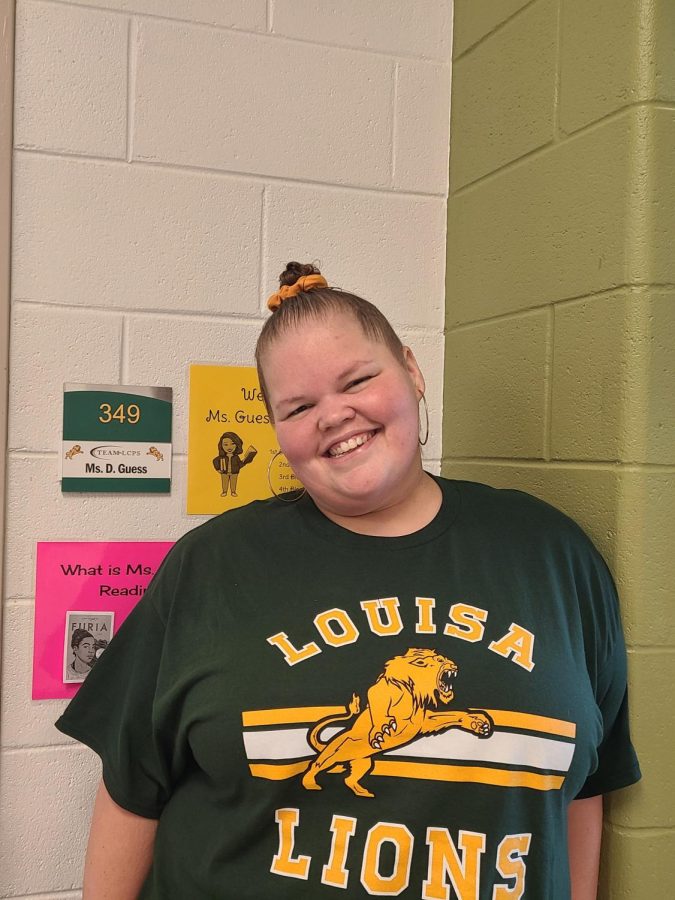 Darci Guess
This year the English department is welcoming three new teachers. Among those is Darci Guess.
"I am loving it in Louisa so far; the community here has been absolutely amazing," said Guess. "I feel valued and supported here." 
Louisa's school system is one that strives for excellence and that is what compelled Ms. Guess to strive to teach here. 
"I have always heard good things about LCPS, so I had to come check it out for myself," said Guess.
 Guess is here to bring flair and brightness to her English class. On her door you will find a beautiful blue flower. Upon entering her room she greets you with a warm smile; a smile that exemplifies the "kindness matters" sign on her windowsill. 
     "I am all about my flair pens and highlighters, they are a must for me, and I encourage them for the students as well," said Guess.
As a teacher, transitioning to a different school can be a frightening journey. For Ms. Guess, the nerve-racking process was minimized with the availability of resources that are offered to our new teachers. 
"The new teacher training and staff resources are unlike anything I have experienced at other schools," said Guess. "The organization and attention to detail that went into making us feel welcomed and supported was amazing, it made transitioning to a new school a lot less scary."
This is Guess' third year teaching English and her tenth year working in education. Before coming to Louisa, she taught 9th and 10th grade English at Buckingham County High School; prior to that, she was an on-site substitute at Powhatan High School. Guess definitely enjoys teaching. In addition to that she relishes activities outside of her profession. "I have two dogs that keep me pretty busy outside of school," said Guess. "Of course, I also love to read, I enjoy being outside, and typically on the weekends you will find me eating out with my friends and family."
Though she thoroughly enjoys her time outside of work, everyone has something special they enjoy about their profession. With teaching Guess truly enjoys the diverse atmosphere each and every day. "I love interacting with my students every day; teaching really is one of those jobs when you never know what you're going to get, and I love it,' said Guess. "I love that I get to be creative and try new things." 
Donate to The Lion's Roar