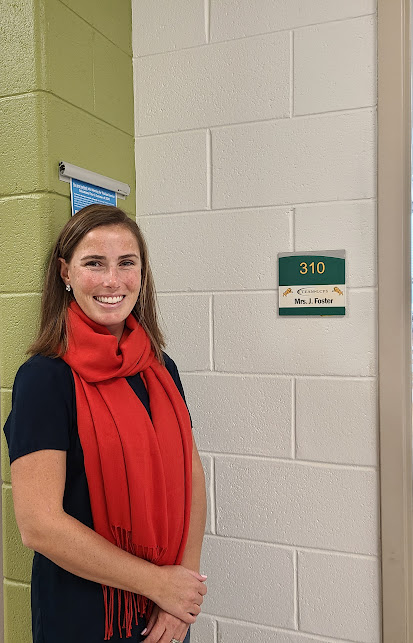 Jennifer Foster
This year we are welcoming several new teachers, among these is Environmental science teacher, Jennifer Foster. Prior to embarking on her journey here, Foster taught Alternative Education Science in Fluvanna. Foster describes herself as caring, active, and an enthusiastic person. 
Some would say that a first impression is a lasting one. In her short time of being here, Rebecca Kazio and Cary Varner have made lasting impressions on Foster.
 "They are an amazing team. They are both so knowledgeable and enthusiastic," Foster said.
 Our school system is full of support, with a motto "One Family". For Foster this is what makes Louisa's schools stand out from others.
"The staff has been beyond helpful by being patient and sharing lots of material, as well as providing tons of tech support," Foster said. "My family has been supported through encouraging messages, meals and fun opportunities." 
Most people with a job or profession have something that makes it enjoyable. These enjoyable aspects range from the people surrounding them, the time away from home, or even doing something they love, interacting with new people is Foster's favorite part of teaching.
"Knowing new people expands your own knowledge and interests," Foster said.
Foster thoroughly enjoys teaching children in high school. For Foster the best part about teaching high school aged children is, "seeing the kids become adults and find themselves."
Foster brings enjoyment and structure to her class. Most teachers have a specific classroom supply that they genuinely enjoy using, and Foster's happens to be markers.
"Colors can make notes and assignments more fun and organized," Foster said.
Outside of her profession, Foster relishes the simple things. For her, the simple things mean engaging in her kids' activities and engrossing in what's around her outside.
 "I watch my kids' sports games and play golf," Foster said.
Foster's reason for teaching here is because it felt like home. 
"I have been a part of Louisa schools for a while, working part time and volunteering in my own kids' schools," Foster said. "It made sense to stay where I was, happy and familiar."
Most teachers hope that students take important lessons away from their classes. Foster hopes her students will take away "how to apply their knowledge to new situations and experiences."
Donate to The Lion's Roar