Carpentry class gives back to the community
  Here in Louisa, our community is one of the best, if not the best in Central Virginia. 
  Two years ago, Director of CTE and Workforce Development, Bo Bundrick, and high school carpentry teacher, Rodney Carter brainstormed ways to give back to the community and came up with the idea of building houses for county workers such as teachers, firefighters, EMS, etc. that have small families. 
  "We were trying to get a project that we could do here on-site at LCHS, but also give back to the community offsite," said Bundrick. 
  Carter and Bundrick met with the Fluvanna/Louisa Housing Foundation admin team followed by their board having to approve of the bill. 
  "The Louisa Housing Foundation is a government grant-supported foundation that helps people with low incomes get their own home and they use class A builders to build at basically no profit," said Carter.
 Carter said that he took advantage of that fact which followed with the Housing Foundation allowing the class to work under Carter's own license.
  Along with the labor piece, there is also a money factor that goes into these projects. 
   "These housing projects are guided by federal dollars and grants that the housing foundation coordinates and facilitates," said Bundrick. 
  In order to be able to request for these houses, the families do not necessarily have to have a low income, but there needs to be an income qualifier. 
  It takes Carpentry classes II and III both semesters to construct one house. Carter believes that these classes should be called 'residential construction' based on the types of projects that these students work on. 
  The carpentry classes can either build these houses on-site at school or on the job site. The house that Carter and his students are working on building now is adjacent to the first house that they built two years ago on Smith Road. This current project will be the last project that they work on before starting again in two years.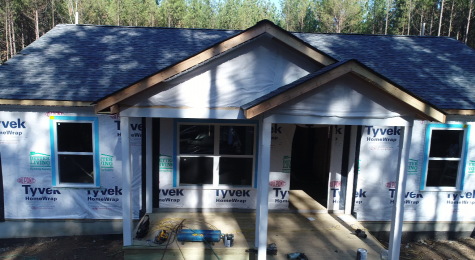 "The biggest benefit of these projects is to the kids. The community also wins because we are producing tradesmen and there is a shortage of tradesmen due to my generation aging out," said Carter. Carter believes that if his generation can teach more of our generation today how to construct different things, then it is going to save our generation some money. 
  "You have to pay a lot of money for a plumber, electrician, roofer, etc. but now you don't even have to know how to do the whole thing, you can be good at one thing and really make a living out of it," said Carter. 
  Collaborations like these are what make Louisa a truly special community. Not only are students gaining real workforce skills, but the community is benefiting as well.
Donate to The Lion's Roar
Your donation will support the student journalists of Louisa County High School. Your contribution will allow us to purchase equipment, cover website costs, help us pay for submission fees to national awards, and enable the students to attend national journalism conferences.
About the Contributor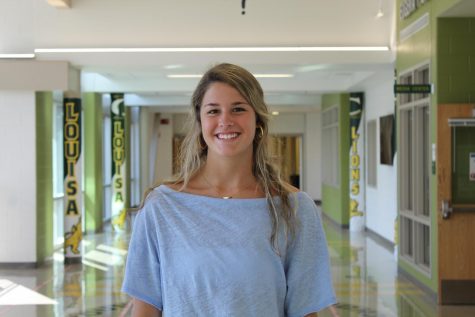 Emion Byers, Arts & Entertainment Editor
Senior and second-year staffer Emion Byers loves spending times with friends and family whether it's on the court or riding around with the windows down.