Anonymous Alerts system maintains school's safety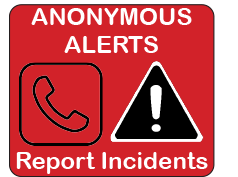 The Anonymous Alert System is a completely anonymous way for students to report concerning or unsafe information to our school's administration. Students can access the system by using QR codes located around the school, the web or the AppStore on mobile devices. 
  The verification code for Louisa is "louisacs." Once signed into the app or website, there is a drop-down bar that allows users to click what type of incident they are experiencing. Bullying, weapons, drugs/alcohol on school grounds, threats, mental health crises and other situations that make students feel unsafe can be reported. 
  "Students are more reliable to report bullying because they see it first hand and more often than teachers," senior Jillian Smith said. "Anonymously helping a friend is easier because it can get complicated when you are trying to help them but don't know what they are going through, so, instead, someone with more education has the opportunity to get involved."
  The location of the incident must be reported, and if the particular situation is not available on the drop-down menu or a further explanation is warranted, it is possible to add additional information into a text box. 
  LCHS Principal Lee Downey can ask for more information if necessary by responding to the message, but the identity of the person reported is unavailable to him.
  The administration will then evaluate the situation and choose the best way to handle it.
  "I have used the system personally, and within the next few school days, it was handled," Smith said.
  A phone option that provides users quick and easy access to valuable hotlines such as suicide prevention, substance abuse and more is offered. 
  The Anonymous Alert System provides students the opportunity to comfortably report anything to the school's administration. 
  "It's important for students to remember that even if it's something they are unsure about, it is worth reporting and letting an adult look into it," region 10 counselor at LCHS, Kendall Britt, said.
  It is crucial to take advantage of this resource if needed in order to ensure LCHS remains a safe environment for all.