Inaugural Blog: Not Crying for Harry
  Two weeks ago, Oct. 27, I, Maddie Wilson, saw Harry Styles in concert.  If you don't already know, Harry Styles is an English singer, songwriter and actor.  You may recognize him from the British/Irish boyband One Direction who sang hits like "What Makes You Beautiful," "Drag Me Down" and "History." He is currently labeled as solo since the band's hiatus in 2015 and just released his sophomore album in December of 2019 titled Fine Line.  He has since received many awards such as AMA's, Brit's, and even a Grammy for best pop solo performance. 
  I started listening to Harry around the same time his second album was released. For months, I constantly begged my parents to get me tickets for his Love on Tour, however, the answer was always a firm no.  On my 15th birthday, I was given a box from my family with a paper inside saying "I'll be looking for YOU in the watermelon pit, October 27 in Atlanta, GA." I honestly don't remember how I reacted, and I also don't really want to know because I was probably being dramatic.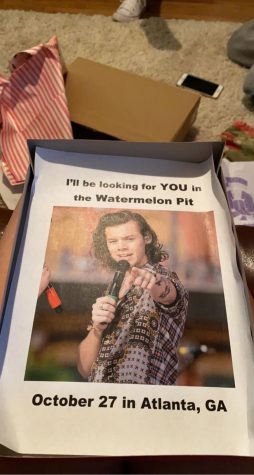 The weeks leading up to the concert, my time was filled with trying to find the perfect outfit.  Harry Styles is very well known for his iconic, bold, style which reflects onto his fans. You cannot go to his concert in a boring outfit. I kept switching between ideas of a sequin outfit or a pair of flared pants. I ended up landing on a pair of pink flares from Free People, and a sequin butterfly-shaped top from Dolls Kill. I matched it with a pair of white heeled boots and plenty of cheap jewelry. Now that I had my outfit, all I could find myself doing was counting down the days until my flight.  
  I was very nervous to fly down to Atlanta since I had never been on a plane before. Nearly the entire flight, I was taking pictures out the window of the sunset to distract myself. It honestly wasn't too bad, I think I was too excited to be within feet of Harry Styles; to focus on the fact that I was in a floating metal object in the sky.  
  When my parents and I landed, we Ubered to the hotel and went straight to bed.  The next morning, my mom, dad and I went to the arena to figure out our plan for the day. After feeling how cold it was, I decided I would rather just hope for the best than camp out all day to get good pit seats. Instead, we went to Target, and a few other stores to pass time. My mom and I also stopped at the merch stand which had items like shirts, water bottles, sweatshirts, tote bags, and plenty of other stuff that took all of my money. We were mainly waiting for my sister, Mackenzie, to get to the hotel. She drove three hours from her school, The University of Alabama, to meet with us in Atlanta to go to the concert with me.  Once she got there, we had Chipotle delivered to the hotel and started to get ready.  After we finished getting ready, our parents dropped us off at the State Farm Arena.
  At that point, my feet were already hurting from walking to the arena gate, which wasn't a good sign.  Once we finished going through security and getting our wristbands, we entered the floor.  I got chills immediately, but it was also freezing in there so that could've been it.  We ended up sitting on the floor for around two hours waiting for his opening act Jenny Lewis to come on.  Her performance was great but it was undeniably the longest hour of my entire life. 
  After Jenny left the stage they started prepping it for Harry.  At the same time, the song "Olivia," by One Direction started playing and the entire arena erupted in singing. Since most Harry fans are also One Direction fans, everyone was excited they were playing their song. About twenty minutes later, the song "Sweet Thang," by Shuggie Otis started playing. Everyone knew that was the last song on the pre-show playlist, so the room was just filled with anticipation.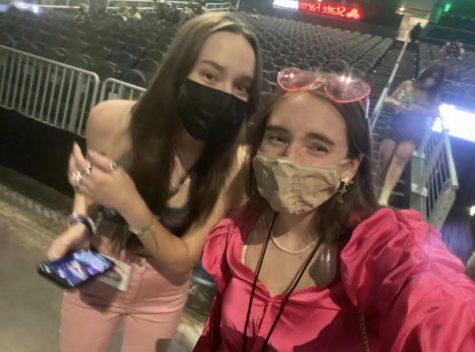 Once the da da da's to the intro of Harry's song "Golden," started playing, all you could hear was screaming.  I probably have permanent damage to my eardrums from that. As soon as he entered the stage, Kenzie instantly started crying. I totally didn't cry at all. He was wearing a black button-up and red trousers with red suspenders. He wears the same outfit in different colors at each show, but I tried to ignore that. The show continued for around an hour and a half. The energy in that building was amazing and it was by far the best performance I have ever seen.  Mitch, his guitarist, is probably the hottest, most talented man alive. He definitely put on a show with zero emotion. Once Harry left the stage after his encore "Kiwi," the lights came back on.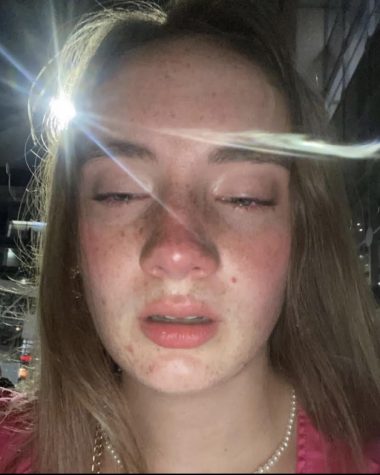 My sister and I probably just stood there for ten minutes in silence just staring at the stage.  We looked around and saw everyone around us leaving the venue and we decided to follow them.  Before we started walking, I took my shoes off and started walking barefoot.  I do not recommend going to a concert in four-inch heels.  The song "HUMBLE." by Kendrick Lamar started playing as we were leaving, and tears instantly started rolling down my face. Traumatizing, not a good song to hear as you're crying. I haven't and probably won't ever recover from this experience. I have not been able to listen to his music since, without having to fight back tears. If anyone has $700 to buy me more tickets, please hit me up.