Blog: The worst mistakes teach the greatest lessons
  There is a saying, "Remember life's greatest lessons are usually learned at the worst time's and from the worst mistakes."
  A lot of people think of January as a month of new beginnings and fresh starts. In January, many people come up with resolutions to tackle the new year. Similar to a New Year's resolution, at the start of every new basketball season, we come up with a team goal. 
  Last year, our goal was to become state champions. At each practice, we worked harder and harder each day to achieve our main goal. We had about five goals that we had to meet each game. These goals consisted of out rebounding the other teams, going 75% at the free throw line, keeping other teams under 45 points, and averaging more steals than turnovers. Our season started off strong with a 5-0 record after a 76-57 win over Fluvanna at home. 
  Not long after that, I received some pretty bad news. My mom tested positive for COVID. This, of course, meant I had to quarantine. So I moved in with my oldest brother for two weeks. Both of my brothers moved out over a year ago so I had forgotten how hard it was to share a bathroom with a guy. Especially, when your brother has to occupy the bathroom for ten years to get ready to go somewhere. Let's just say I was reminded of the trauma during those two weeks of quarantine. Other than that, we didn't drive each other too crazy. 
  Having to quarantine for two weeks meant I was going to miss our next four games. It was hard not being with my team and having to watch them play through the National Federation of State High School Association (NFHS) network. Thankfully, due to COVID our games were live streamed, but it just wasn't the same not being on the court with them. I especially missed our pregame rituals. Before every game we would always get hype in the locker room listening to music and dancing. Not having that fellowship with my sisters made it even harder to watch the games by myself everyday. It was hard seeing things that I would've pointed out so that we could fix them, but I couldn't. 
  After a long two weeks of being inside, I decided to treat myself to what I thought was going to be a fun snow day. Of course, when I look back on it now, it was a terrible idea. You would think after being out for two weeks I would have taken every precaution to safely get back on the court. Well, I'm just a kid so I didn't think anything of it. It was only downhill from there, literally.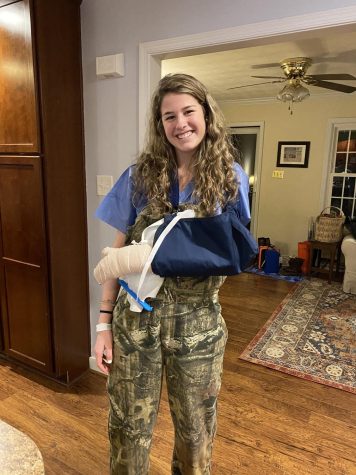 What was supposed to be a fun day of sledding turned into a trip to the ER. After waiting for what had felt like forever for the results from the X-rays, the doctor finally came back to my room. I was given even worse news than my mom testing positive for COVID. I broke my wrist. The whole time I definitely thought my wrist was just sprained, my wrist didn't hurt that much for it to be broken. Well I'll tell you what, the pain might not have made me cry, but hearing the doctor say, "Unfortunately there is a clean break" definitely made me tear up a little bit.  
It's crazy how fast things can change. I went from being out for two weeks, to being out for the whole season. The last time I played on the court, I had played alongside my 14 sisters for the last time, without knowing. My junior season. The year for recruiting. Not only that, but this was our year to win states, and I was forced to watch from the sideline. It was hard watching my teammates struggle while I was on the bench and not able to help them. I might not have been able to help them physically, but I was right there with them at every sound of the whistle for a timeout, calming them down with positive words.
  Thankfully, we were allowed to play in more tournaments this summer for travel ball and we weren't limited to the amount of spectators. This allowed for college coaches that I had been in touch with before the injury, the opportunity to watch me play in person again. This was one of my last opportunities to get exposure from college coaches. While I was injured, I had to look forward to playing in the summer to keep me positive. 
  My biggest takeaway from last season was that nothing is handed to you. This is why I have to go hard every game and every practice, because I never know when that might be taken away from me again. Everyone's season comes to an end eventually, but when it came earlier than I had expected, it was a true eye opener. 
 As I look back on last season, I wouldn't change a thing. I got to physical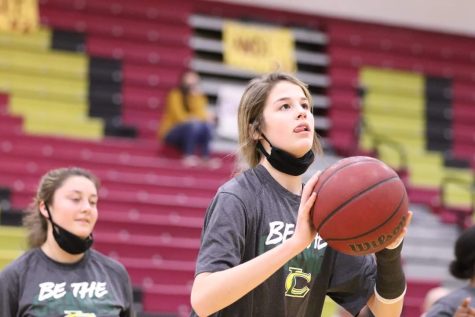 ly watch my teammates' hard work pay off as we won the state championship. My injury humbled me, and made me very aware of how much I took for granted. I am thankful that I have the opportunity to play the sport that I love with the people I love the most, my sisters.