Local Mexican Restaurant Rivalry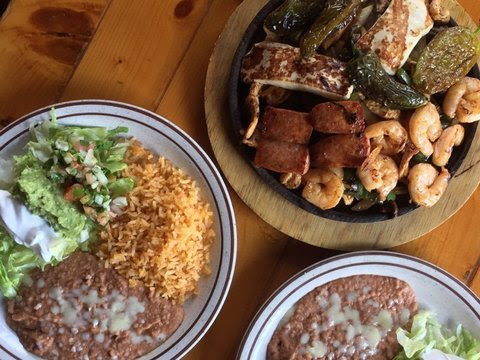 With a total of eight sit down restaurants in the town of Louisa, many which are chain restaurants, it's no surprise that everyone has a preferred first choice. Two of these dining options include authentic, family owned Mexican restaurants. The first is Sabor a Mexico located in Mineral and the second is Los Tres Potrillos located in Louisa. Students at the highschool have a distinct favorite between the two, not because one is any less delicious than the other, but because they have a simple preference.
  Starting with Sabor a Mexico, students who favor the dining experience rave about the queso, as well as, the climate the restaurant offers. Sabor a Mexico has a welcoming environment right as one walks through the door, the walls are complete with Louisa pride and history framed against the bright green walls. There are a variety of tables and booths where students can recall many meals amongst friends after school. The menu offers a wide array of Mexican dishes and flavor that continues to pull in customers, many of which are students.
  "The atmosphere and the way the restaurant is decorated at Mineral Mexican gives it a more authentic feel," said freshman Stella Keiningham. 
  For one student in particular, the Mineral Mexican restaurant not only serves good food, but also a place to gather after practice.
  "Mineral Mexican all the way; one of the main reasons being that after football practices, we go to Mexican 2-3 times a week. We'd get the big table in the back and there were like ten of us, not to mention their Nachos Texanos are the best," said senior Nathan Gramling.  
  Los Tres Potrillos also has a "fan club" here amongst students. The students prefer Louisa Mexican, due to the affordability and easy access. The main distinction seen between the two local restaurants is Los Tres Potrillos offers Taco Tuesday which gives customers a special rate on tacos.
  "I prefer Louisa Mexican because of the $1 tacos on Tuesday," said junior Qwenton Spellman.
  Upon entering Los Tres Potrillos, the restaurant has a large open dining area with a fun environment set by the giant pinatas hanging from the ceiling. 
  "Louisa Mexican is the way to go because it is convenient and the salsa is very good," said senior Ryan Toney. 
  Overall, both restaurants received stellar reviews and recommendations on the go to items to try. Next time there is a hunger for some authentic Mexican food, make sure to try Sabor a Mexico or Los Tres Potrillos and decide for yourself which is preferable.