Senior publishes a poetry book
  Astonishing, nerve-wracking, and bewildering are all words that senior Olivia Thompson uses to describe publishing her own book. While many people have dreams that they would love to accomplish, not many people turn those dreams into reality. On March 3, 2022, Thompson accomplished one of her dreams by self-publishing her first book of poetry "One Step at a Time." The book is available on Amazon for just under nine dollars.
  Thompson wrote this book so she could do what she loves and prove to herself that accomplishing big goals doesn't have to wait.
  "When we are young we seem to think things such as being an author, a singer, or an entrepreneur have to wait until you're older, but it doesn't," author Olivia Thompson said. "I had a dream and I turned it into a goal to prove to myself that I can do it"
  A poem titled "Dream" by Langston Hughes encouraged her to pursue her dream.
  "My little sister was reading a poetry book and that was the first poem," Thompson said. "When I saw it I connected my life to it because I write poetry and have a dream so I decided to go for it."
  While writing this book, life was still moving. She faced many hardships and situations that she says can be seen in the poems themselves. Although she experienced setbacks, Thompson used that to her advantage.
  "I had a lot of family issues going on while I was working on the book which set me back some, but it also inspired me to work harder," Thompson said.
  Thompson felt many different emotions when publishing this book and found that writing gave her a break from thinking about school.
  "It feels amazing to have a published book," Thompson said. "Throughout the writing process, I can honestly say I felt my happiest working towards something that wasn't academic. The day I published the book, I felt accomplished and a little bewildered. It seemed like I would never get there, and then I did."
  Writing this book became an outlet for Thompson. She was vulnerable when writing and shared feelings she's never spoken much of.
  "These pages hold secrets and emotions I have yet to share with some of my closest friends and family," Thompson said on the "Dedication" page of her book.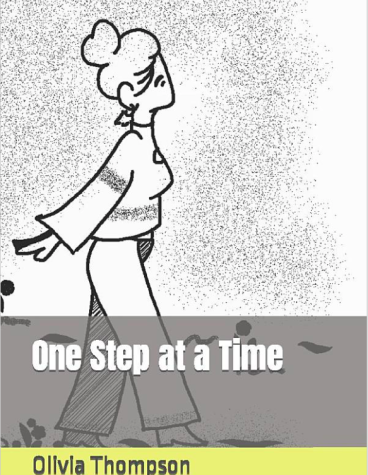 One Step at a Time is based on Thompson's life experiences and feelings that many people can connect to.
  "A majority of the poems come from my teenage years," Thompson said. "Grieving losses is a common theme throughout the book. I also express insecurities and loneliness, all based on real experiences."
  Although Thompson focuses on serious topics throughout her book, she also talks about uplifting subjects.
  "Some poems are more so about passions," Thompson said. "I am very passionate about self-love and improvement"
  Like the rest of the book, the cover and title have meaning behind it, just as the words on the pages do. The cover represents evolution. The back of the book has drawings of a child and an angsty teen while the front has a young woman looking excited for a new day.
  "The theme of the book is the evolution of a teenage mind, and I wanted the cover to express that transformation," Thompson said.
  The title goes along with the cover. Change happens, but only "one step at a time." It doesn't happen overnight, it takes time.
  When writing, Thompson put lots of thought into how she conveyed her ideas without actually using words. To her, everything she did has a meaning; the placement of the poem, the lack of words in some places, the font of some words, and the misspelling of words. They may look like mistakes, but they were intentional.
  Many people have supported Thompson and the writing of her book, including family, friends, and teachers.
  "The best part of seeing her journey come to life was seeing her confidence during the process. Olivia is super smart but shy and to put herself out there is a brave thing to do," Dual Enrollment English teacher Ms. Helen Weddle said.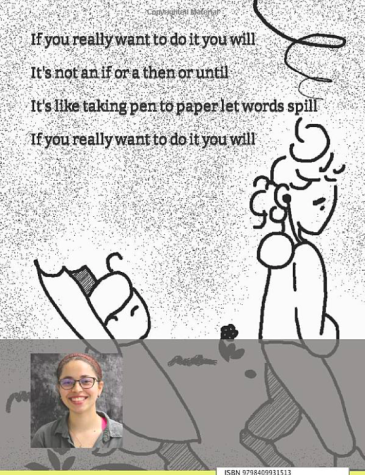 Thompson looks forward to her future and continuing to write and make an impact.
  "Writing this book has taught me so much, and sharing it with others has taught me more," Thompson said. "I have a lot of ideas and although I love what I've created, I realize the execution of ideas could be better next time. I am already working on another book and am excited to get all the feedback I can on this one to make the next one better."