Going mad for the Mad Batter
  When walking through the door, the scent of childhood dreams of cupcakes and cookies hit me.  Growing day by day, the Mad Batter was aesthetically pleasing and comfortable to stand in. The store had cute decor, polite workers, and overall it was a lovely experience. 
   The Mad Batter offers a wide variety of sweet treats from cookies to cakes in a jar. Their main attraction is their customized cakes and cupcakes. 
   When I went, I got a chocolate cupcake with vanilla frosting, a red velvet cupcake with cream cheese frosting, and a peanut butter chunk cookie.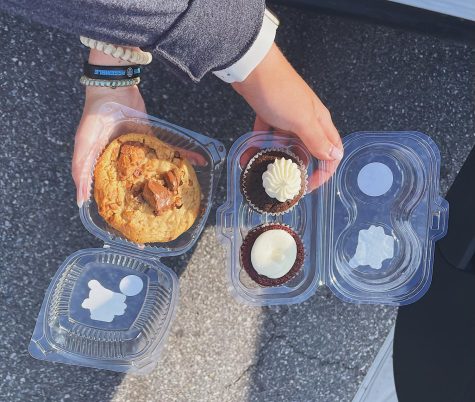 The cupcakes are a great afternoon snack. The only feature I didn't like was the frosting to cake ratio. Now I'm not much of an icing girl, but the cupcakes  have a small dollop of chilled frosting on them that barely covers the center of the cupcake. Even though there isn't much icing, it's not necessarily needed, because the cakes themselves are airy and light.
   Personally, the chocolate cupcake didn't have much flavor but I liked how the cake and icing flavors were so compatible. I wish the chocolate tastes popped more like you when you eat a candy bar. I like my chocolate to have a stronger taste, but if you're craving  something sweet that isn't too overwhelming, then the chocolate cupcake is the choice for you. 
   My favorite dessert was the red velvet cupcake. The spongy cake was a perfect match for the smooth, rich texture of the cream cheese frosting. If you are searching for the perfect sweet and savory treat, then the delicious red velvet cupcake is the way to go. 
   The last thing I ate was a peanut butter chunk cookie. This snack was a family favorite in the Harding House. It was the perfect blend of sweet and salty. The cookie itself was moist and did not crumble when broken apart. Chunks of peanut butter cups were baked in, making the flavor pop.  The size of this specialty cookie compared to the classics was insane; it was double the size of their normal chocolate chip cookies. This cookie is good for any occasion and is paired perfectly with a tall glass of milk. 
   The Mad Batter is a family owned business with affordable prices and they make a great new addition to the Mineral Town Square.  I can't wait to try what new creations and flavors come out next.