Jumping into The Jungle
  Every year, at least one of the Louisa High School football games in The Jungle starts with an incredible jump by skydivers delivering the game ball. 
  Over the years, different skydivers have made the jump to hype the crowd before the game begins.
    One skydiver who has stuck with the sport and continues to make the jump on Friday nights is Bobby Page. Page has over 6,300 jumps, 310 of which are exhibition jumps. These are like the demos they do at our high school. He started when he attended Virginia Tech in 1991.
  "I've been in the sport for 31 years and have been on four world records," Page said. "I also have many state records some of which still stand today."
  Page made his first jump into The Jungle in 2004.
"I have jumped into The Jungle 30 times in those 18 years," Page said. "I have also done demos into all sorts of other venues to include universities and professional stadiums such as Liberty, UVA, and Virginia Tech."
  After jumping into many different big schools, Page still places LCHS as top four on his list of favorites.
  "I love the energy that Louisa County fans bring, the atmosphere at the Jungle is like no other," Page said. "Me and my team love performing for the Lions. It charges us up just as much as I hope we charge the fans up."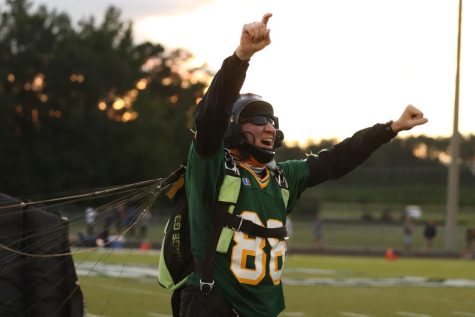 Kevin Reynolds, a retired skydiver, has jumped over 5,000 times. Many of them take place at high schools and universities. Skydiving made a big impact on Reynolds' life and created memories that will last him a lifetime.
  "Skydiving allowed me to have fun, push my personal comfort zone and also provide for my family during the previous recession of 2007-2009." Reynolds said.
  Skydiving has even allowed Reynolds to perform on a global stage.
"I've benefited from skydiving in countless ways," Reynolds said. "I jumped into NASCAR races live on prime time network TV."
  Even though Reynolds has performed in front of a larger audience and at much bigger events, jumping into The Jungle is one of his favorite events.
  "The atmosphere in The Jungle exceeds many of the college football games I've jumped into," Reynolds said. "My mom is also a Louisa graduate, so that's special to me too."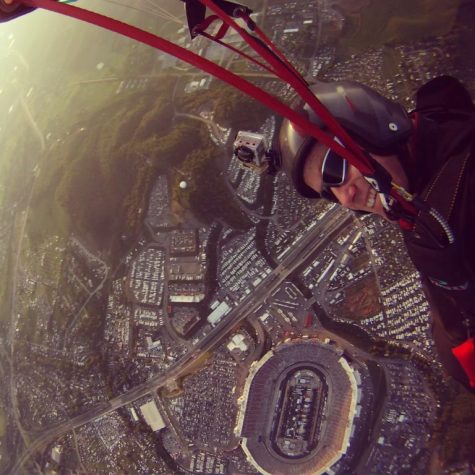 Students here at the school enjoy watching these skydivers jump into the game.
  "I think it's really different." Sophomore Emma Alexander said. "It honestly scares me, but its super cool to watch and gets me excited for the game."