Just Dance
   English 9 teacher Darci Guess recently formed a Dance Team.  In February, Guess was approached by one of her students, Kiley Honnaker, about starting a dance team. Now, with ten current members, the team hopes to gather more students and become an official team next school year. 
  Guess, along with freshman Honaker, organized an interest meeting to see the potential of a dance team at the school. The turnout exceeded their expectations.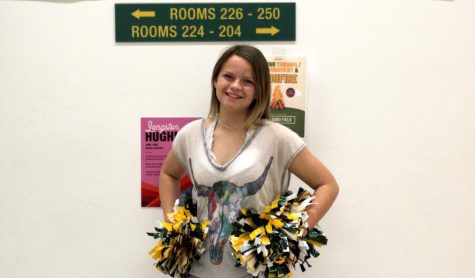 Guess has a music background in contemporary Christian, worship, pop and country music. Guess stated that she has been seeking an opportunity to get more involved and connect with the community, and this dance team was the perfect chance to do so.
   "This dance team is something I have wanted for a long time," Guess added. "It is an opportunity for high school students to showcase their moves and bond with their fellow team members."
   Honaker, who has participated in basketball and sideline cheer this past season and competed in gymnastics in her younger years, she learned how to do things that she has wanted to learn how to do for a long time, like certain stunts in cheer. 
    "I have wanted to do dance, but I never found how or where to do it," Honaker said. "My favorite thing about the dance team is being able to put my skills to use now. It is really exciting to see the team grow and progress. I have learned that it is really important to communicate and work together in order to make something happen. If we didn't have the communication that we do, this team would not be possible."
   Anyone interested in joining the dance team, please reach out to Ms. Guess in room 349 for further information.