Caroline Chapman commits to Bridgewater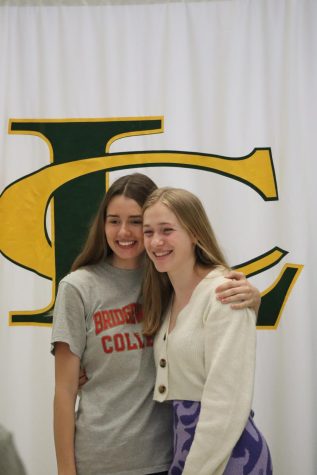 Senior Caroline Chapman has committed to Bridgewater College to further her Track and Field career.
"This college commitment means the world to me" said Chapman "I feel so blessed to have this opportunity"
Bridgewater College is an NCAA Division III school located in Bridgewater, Virginia. Chapman signed her letter of commitment on May 8, 2023. Chapman will be majoring in Environmental Sciences and minoring in Biology
Chapman has a love for animals and nature. After she graduates college, Chapman would like to work for the Department of Game and Inland Fisheries.  
"There are so many things I love about Bridgewater," Chapman said. "When I toured there everyone seemed so happy and friendly. I love how the college is located in a rural town." 
Chapman has been competing in track since she was in 6th grade and has competed at the state meet twice, running in the 4×8. 
  "When people ask me how track changed my life, I always say it wasn't track itself," said Chapman. "It was the coaches and people who have supported me through these seven years of doing this sport. I owe all my credit to Coach Jerry Cutright, Coach Beth Brown, Coach Amy Wilson, my teammates, and, most importantly, my family. I could not have achieved all these accomplishments without them."
Chapman's opportunity to compete at the college level has proved that dedication and hard work will pay off. 
 "She works hard and is very passionate, and dedicated to do well not only academically but athletically as well," said track Coach Amy Wilson.
Chapman is excited to join the Bridgewater College track team. She is looking forward to the challenges and opportunities that await her.