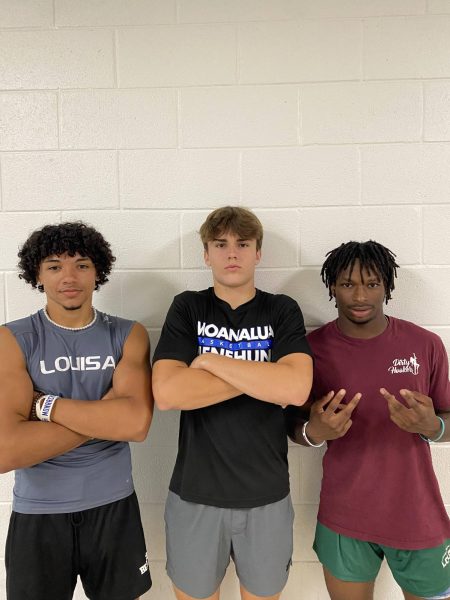 With a fresh team comes a fresh player from an unexpected place. Junior Caleb Brady is a Hawaiian transfer from the island of Oahu and is transitioning into the varsity football team.
  "I like the community, and I like the atmosphere for football," Brady said. "Everybody seemed very close and it is very serious here." 
  Brady's home island is near to the major fires that happened in Maui.
"It's tough, my prayers and thoughts go out to the families out there," Brady said. "It's a very unfortunate situation and everybody is praying for them."
  Coach Will Patrick has been working closely with Brady and has created a  strong relationship with him.
"[Our relationship] has grown tremendously," Coach Patrick said. "The kid is a competitor and a warrior and is everything you want as a football coach."
  Senior Jaden Davis is working with Brady in a close quarterback-wide receiver relationship. They have to have the same mindset in order to perform well on the field. Quarterbacks and wide receivers can't communicate while a play is going so they have to know what the other is going to do to be able to predict and be playmakers. 
 "[Brady] is a good leader and makes great passes and has brought the team together and given something to look forward to," Davis said. "He has great energy and is very liked and is a team player."
  The team has goals to be the best version of themselves this year and be leaders in the classroom, while Brady's specific goals are to go undefeated and go to the playoffs. 
  "It's a young team and we are facing new teams so we will see what happens, but we will be good," Brady said. 
  With unfortunate rumors of Brady being hurt and not being able to play for his junior year, the team kept going. 
 "He's here to build something with me and we are going to build it together," Coach Patrick said.