The Esports teams for Rocket League, League of Legends, and Super Smash Brothers are looking forward to a great season full of growth this year after their senior players graduated. All of the teams are hoping to establish a strong foundation for their new players, while also working on their older skills.
  Last year, the Rocket League team lost many of their most experienced players when they graduated. The League would like to build on their capabilities, and improve their performance this season in order to strengthen their team. 
  "I expect the really competitive teams got a lot to rebuild on," League of Legends and Rocket League coach Caleb Straley said. "We lost five seniors over the last season of Rocket League." 
  As for the League of Legends team, they are anticipating a good outcome this season as they work on their knowledge and skills. Last season, they struggled because they competed against more experienced teams, but, this season, League of Legends is aiming to go further with practice and concentration.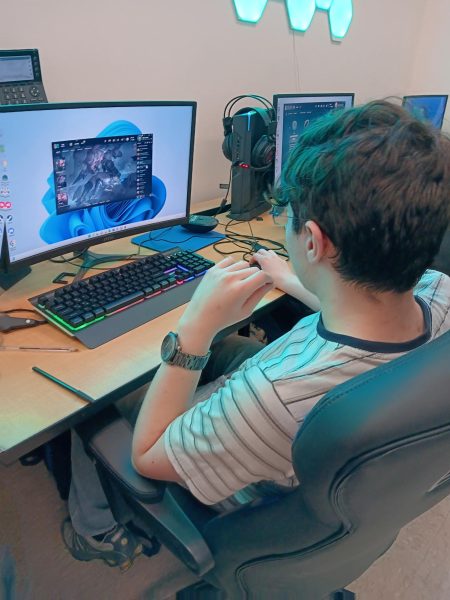 "Honestly, I feel like [this season] will go well," League of Legends player and junior Cedric Moore said. "We still got, like, some stuff to iron out in general, but we're all pretty friendly with one another." 
  Following the graduation of some of their best players, the Super Smash Brothers team is focusing on welcoming their newest players and developing their team bond. They would like to work on building up their new players' abilities as well as revisiting skills for their older players.  
"If we can focus on just improving basic skills and mechanics this season, I would look forward to next year being a very good season for us," Super Smash Brothers coach Cary Varner said.
  One of the biggest strengths for all of the teams is their fun, casual environment. All of the players enjoy being a part of esports because of the many close friendships and memories they make with one another. 
  "I love my team," Super Smash Brothers player Jaime Christian Ortiz said. "Even though we don't always see eye to eye, we do respect each other." 
   The teams agree that even if they don't win, they still have fun and enjoy playing together. 
  "The environment is fun, engaging, you get to meet a lot of new people." Super Smash Brothers player Nikolas Sexton said. "You get to just like, play with your friends, see how they're doing, overall just time to interact with them and socialize while doing something you enjoy."