A collection of fine art programs are available for students; one of which is art teacher Abigail Young's Commercial Arts two. In this class, students learn the basics of photography and photoshop while designing their own digital portfolios or artistic compilations. 
For the last three weeks, the students have worked on their current project, which surrounds the idea of Augmented Reality. According to the website techtarget.com,  "Augmented reality is the integration of digital information" into one's environment in real-time. In other words, the students' virtual creations are overlaid onto real-world environments.
Young has been an art teacher for over six years. Over this time she has led many projects, and she appreciates that this one is especially abstract.
"This project will highlight students' drawing capabilities, coding skills, and [their ability to] think technically and methodically," Young said.
Young believes that the future of artistic creation revolves around technology. Her students use the program Procreate, a digital painting software, to bring their ideas to life. In addition to Procreate, the students used a secondary app to complete this project.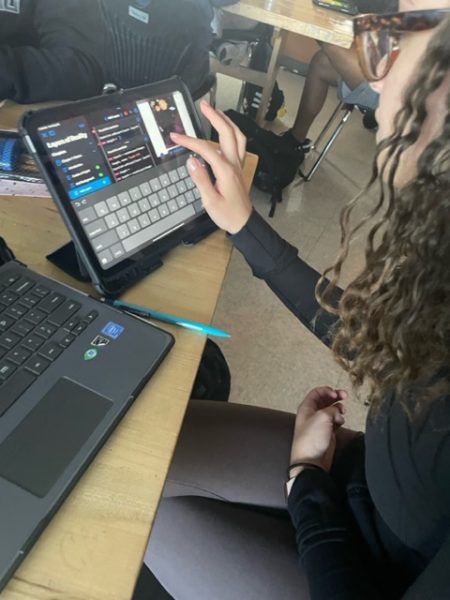 "Swift Playground is a coding app for beginners," Young said.   
Senior Kaleigh Noakes has been taking art classes for three years. She found this project fun and relaxing because of the creative freedom that came along with it. Noakes' artwork has a galaxy background that is highlighted with blues and purples. In the foreground, an astronaut is framed by stars and planets.
"We had to make drawings but we had to do it in layers and just drew whatever we wanted to," Noakes said.
For her, coming up with her idea was the most difficult part. Despite this, Noakes is most excited to be creative and to bring her space theme to life.
Junior Savannah Galagher has been involved in art her entire life and enjoyed the drawing portion of the project most. She is excited to create her project through the use of bright colors. Galagher's background consists of a blue pound with an orange koi fish in the foreground. She's ready to learn and perfect coding techniques whilst including features such as bright waters and flowing fish.
"It was a very fun project, and I'd love to do it again!" Galagher said.