In Zion Crossroads, the construction of the new 80 room Hampton Inn is underway. Owner, Asad Chaudhry paused the development due to complications with roadway access involving Rt. 15 on James Madison Highway as well as overall design. However after a few years of delay, they are following through with building the hotel.
With the new hotel coming to Zion Crossroads, many changes are taking place to the surrounding area. The changes have both been seen as positive and negative.
One change will be in the increase of people, whether it be tourists or the general people.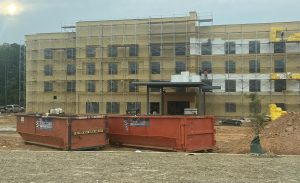 "There's gonna be a lot more people, yeah difficult to get places and it's gonna be very heavy traffic," Senior Abby Burford, who lives in the area, said.
More people are expected to bring an increase to use of transportation, both public and not.
"They'll definitely bring in a lot more people. A lot more traffic has been really difficult for buses and stuff to navigate through," Burford said.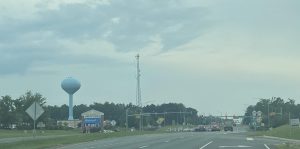 Although the roads may be more populated, the hotel bringing more people provides more opportunity for the surrounding businesses.
"They probably see it as a good thing, especially spring break because it's a lot more people coming for tourism to businesses with a lot more people, so they'll get a lot more money," Burford said.
The location has been questioned not only for the placement but also for its involvement in competition with surrounding businesses, more specifically with the Best Western plus Hotel in close distance.
"[Competition] probably will most definitely be an issue because I don't think many people will stay in it," Burford said.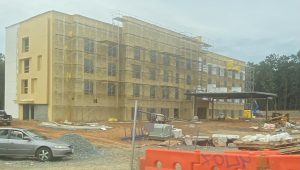 This concern can also relate to the competition between other businesses in the area.
"Yes, I find it similar to the Burger King and Mcdonalds across the street from one another," Sophomore Andi Deinlein said.