Homecoming is a big deal for a lot of high school students. It's a night to be with your friends, and dance your heart out. Before Homecoming can begin though, the shopping and planning has to start. 
  Having gone to Homecoming the last two years, I decided to stay home instead of going because I wanted to watch old Halloween movies from when I was a kid to get into the fall spirit. So I helped my sister, Kaylee LaMonds and my friends, Khaya Collison and Kloe Collison, get ready.
  The first stop was dress shopping. My sister ordered a dress online, but when it came in, she received the wrong dress. This was very disappointing for not only Kaylee but for me too since we had already discussed her makeup look for that dress. So, we went to the Short Pump Mall and got her a new royal blue floor length dress. The next stop was her nails. Kaylee went to a salon and got them professionally done. She got black french tip nail that was outlined in glitter with a gem on the bottom by her cuticle.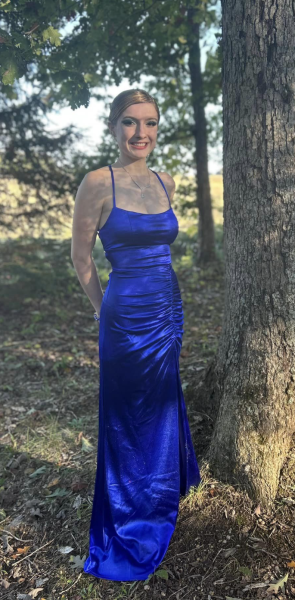 The day of Homecoming is always the most chaotic. My sister and friends started getting ready at two o'clock. Their first step of getting ready was hair. My sister did her own hair in a finger curl pin up style. Khaya curled her hair and put it in a half up and half down style, and her sister, Kloe, also curled her hair. While they were doing that, I was getting set up with my makeup for the first person done with their hair. 
  Their next step of getting ready was makeup. This is where I came in to help. I did my sister's makeup and Kloe's makeup. Doing their makeup reminded me of doing my little sister's makeup when we were younger and it felt nostalgic. They both wore blue dresses, so we based their makeup off of that, royal blue for Kaylee and baby blue for Kloe. My sister wanted a completely blue look with silver glitter in the inner part of her eyelid, and a cut crease of fading blues starting with navy blue in her outer corner. We added eyeliner and some highlights to her face. Then she was good to go. I was really proud of how her makeup turned out.
  Then, Kloe wore a baby blue, Cinderella type dress. Her makeup was inspired by a blue and black smokey eye on Pinterest that fades into white in the inner corner. She finished the rest of her makeup and was ready to get into her dress. I felt so excited for them to be able to go and have a good night.
  Once everyone was in their dresses they went outside to take photos around the tree in our yard. The girls took some photos as a group and it was so cute getting to see them dressed up as princesses. Then, we waited for Kaylee's boyfriend to pick them up. The girls looked beautiful and felt wonderful. Finally, they were off to the dance. I am happy that I was able to help assist them with getting ready for Homecoming.  
  While they were enjoying themselves at the dance, I was sitting at home watching old Halloween movies on Disney+ with my mom. My mom and I made snacks and settled in for the night just like how we used to when I was a kid. Then, I waited for the girls to text me to pick them up and take them home.