Artificial Intelligence (AI) has grasped the attention of all ages. Although this new technology may provide short-term benefits for those using it, educators and administrators around the world are still undecided if the effect it has on education and students is positive or negative. Students should be allowed to use AI to benefit themselves in the school environment.
   AI refers to the intelligence of computers compared to the intelligence of the human race. According to Tableau, the term AI was first introduced in the 1950'4s by computer scientist Alan Turing. Turing published a work known as The Imitation Game, which tested machine intelligence.
   "[AI] is the science and engineering of making intelligent machines, especially intelligent computer programs," computer scientist John Mcarthy stated. "It is related to the similar task of using computers to understand human intelligence, but AI does not have to confine itself to methods that are biologically observable." (International Business Machines)
   Using AI can cut down the time humans have to spend doing tasks. According to The New York Times, AI has been used to write speeches, organize research, and learn new languages. 
Outside of the classroom, students have used AI for activities such as gaming and or online activities.
   "I use Siri, Alexa, and have used ChatGPT when playing games like chess," junior Stephen Rowan said. "A lot of video games these days use Artificial Intelligence to improve real players' overall enjoyment of the games."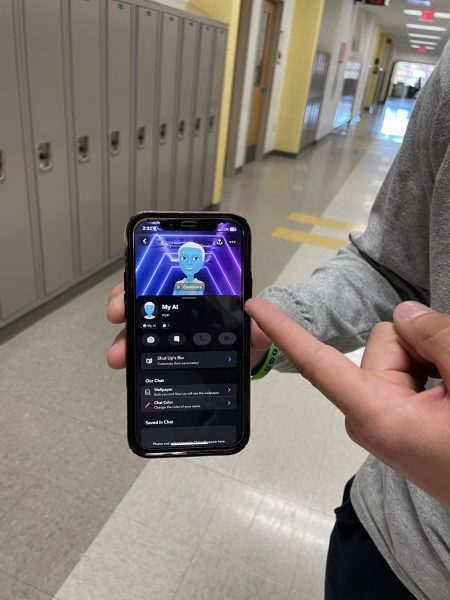 Many websites and social media platforms have begun using AI technology. Snapchat, a popular messaging app among students, has implemented an AI chatbot that remains at the top of the messaging feed. This bot, known as My AI, gives users immediate access to AI. 
   School boards around the country have been faced with questions surrounding AI and whether it should be allowed for students to use or not. Although it may be hard to adapt to this new technology, using AI can promote growth by helping individuals learn new things and apply new skills to daily life.
   AI can be very beneficial in helping students study, review and complete homework. AI can give immediate feedback whereas typically students would have to reach out to a teacher to get help. 
 "Schools are all about education, so why not use the most efficient educational tool of our generation," Rowan stated.
   Teachers use AI for creating practice assignments and even checking papers for plagiarism.
"Anytime I grade anything that the students write, I have a plagiarism detector open, " English teacher Jenifer Ellis said. "It reads what they've written and decides if it is from a website online or if it has been used before."
   The ability to check plagiarism within the blink of an eye can teach students the importance of originality, and prevent troubles that are surrounded by plagiarism such as failed assignments and even lawsuits.
Recently, AI has earned buzz within schools and amongst teachers. Students have found ways to use the technology to cheat. By typing in a few keywords or phrases into an AI generator, students are able to get the answer to a specific question, or even have essays written before their eyes.
   "A lot of people use it for cheating on assignments, but I do think it can be effective if the right people use it for the right reasons," sophomore Elizabeth Palmer said.
   AI may make cheating easier, but if rules against it are put in place, students will still find a way around them. Cheating prevents students from actually learning the information, which poorly prepares them for tests and future tasks. AI should be used as a tool instead of a crutch; students should use AI for practicing and learning instead of answers and cheating.
   Technology is one of the greatest accomplishments of our generation, and it will continue to expand. The current reaction of AI is the same reaction that occurred when the first touchscreen phone was introduced, or when the first computer was accessible to households. Technology isn't a one size fits all. You must be willing to change.