Football season is here, which means the movement of pride throughout the community is nearing its peak. With the first game of the season having been nearly two weeks ago, community support is important in the game of football.
  During the game, many students were seen sporting their school colors. Some people bought snacks and talk to their friends, while others opted to watch the game from the bleachers or student section. Sophomore Cailyn Worrell prefers the former.
Story continues below advertisement
  "It's fun!" Worrell said. "Everyone has a good time, we cheer on our team, and I get to see my friends."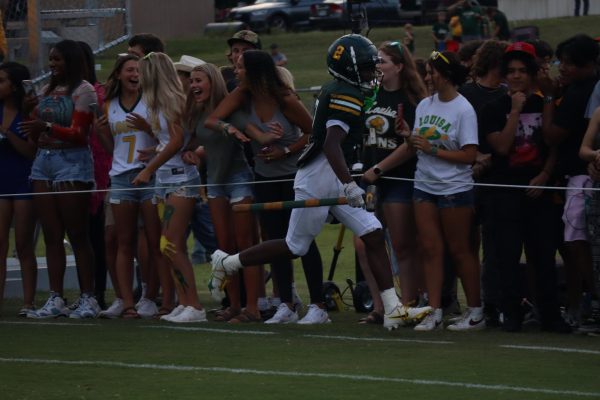 Senior Linebacker Lawton Rowan says that his absolute favorite in-game moment is running through the tunnel. He goes on to say the atmosphere of the community at Friday games is unparalleled and the comradery it brings is unreal.
  "You don't find it in many other sports," Rowan said. "[When] I do something good, I expect [the crowd] to yell and cheer. I want a crowd that's super supportive and I believe our community does a good job of that… we play football. Just whistle to whistle."
  Having been a football coach for sixteen years, Will Patrick says that the experience never gets dull.
                                                                                                                                                                                                                                          Patrick believes that players are a representation of the community and that the loyalty of said community is important. He comments that he's looking forward to seeing "boys turn into men " in reference to his players. He lists several core values that he believes the sport teaches, including putting in work, having a good attitude, and working hard for what you desire.

  "I look forward to every Friday night. [Louisa is] the premiere football culture in the state of Virginia. Three thousand screaming fans… old, young. All Rooting for Louisa County kids."