Spring sports outlook
Baseball: 
  After two years without playing a game, baseball is returning to the field. Both players and coaches are excited to play this season, and expect great things.
 "They're a really good group of players and they have been working really hard. Most of them played travel ball over the summer. Even though they couldn't practice here, they've been working on their own," Head coach Kevin Fisher said. 
 Fisher has high expectations for his players.
"It'll be interesting to see who steps up. I hope they all do. We're a little thin on the roster with twelve, but all twelve can play," Fisher said. 
Softball: 
  Along with baseball, softball has also experienced a long stint without a game, not having played since 2019. Head coach Susan Sharpe is excited for the season, and wants her team to have a fun and enjoyable season. 
"I want them to have fun. We have seven seniors, and with the pandemic affecting school and sports, I want them to have a memorable senior season. If they're having fun, then they're gonna play well. If they're playing well, we're going to win games," Sharpe said. 
  Sharpe also has a few players in mind that will excel this year. Brie Tyler, Dara Sharpe, Savannah Bragg,  and Emily Hall are some of the players Sharpe is excited to watch play this year. 
Boys Soccer:
"I think our best chances of winning are Fluvanna and Orange," said senior captain Connor Schweikart.  "We are looking much better than we did at the start of the season, [and we are] just trying to keep improving. All the Charlottesville-area teams are very good, so those will all be tough games.  I'm really looking forward to the team playing this season, and I'm excited for the competition we'll face for the rest of the season." 
Girl's Soccer:  
  The girl's soccer team has gained a major asset to obtaining success this year, with the addition of head coach Deesh Bhattal. Since last season was cut short due to the pandemic, the team has had plenty of time to get better under new coaching. 
 "The expectation is for our players to take major steps forward in development and learning the new system implemented by Coach Bhattal," said assistant coach Patrick Miller. Some of the players Miller expects will be key leaders are Kendall Hyer, Emily Eppard, and Bo Claussen. 
Tennis: 
The boy's tennis team is new to the sport, composing mostly of first year players. Coach Gregory Palmer expects the team to learn and get better over the course of this very short season. Playing a match every other day, the team only has the opportunity to practice twice a week, and Palmer wants the teams to take advantage of those days. In regards to the girl's team, they are having an excellent season. Coach Palmer is excited to keep watching Sarah Schulte, Abbie Hopkins, Josie Walker, and Ashlynn Harding as the season continues, but he is proud of all of his players' progressions during this difficult season.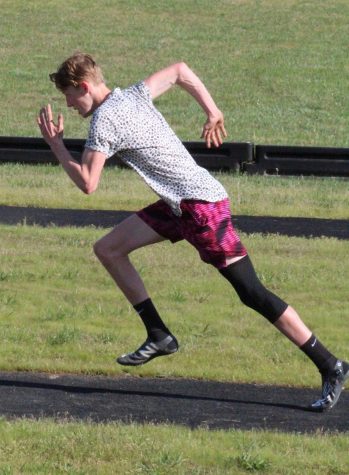 Track: 
With the season kicking off for this year's outdoor track team, it is looking very promising that they will have yet another successful season. 
 "I'm looking forward to it and I think we're going to have quite a bit of improvement." said Head coach Jerry Cutright.
With there always being room to grow, a few players that are expected to stand out this year are Chloe Fritz in pole vault, high jump, shot put, triple jump, and relay, and Alicia Wolfolk in the throwing events. 
  With Nicholas Emmert being a State Champ, as well as a Regional Champ for cross country, he is someone you can definitely bet on making a lot of noise for the lions this year, along with many others. Cutright is excited to grow off of this past indoor track season and has high expectations for his lions this year.