Serene sundowns at the Louisa Arts Center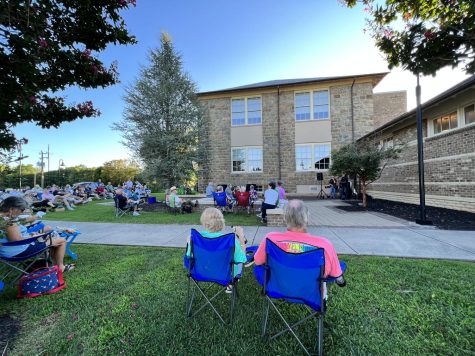 The Louisa Arts Center (LAC) patrons relax as they enjoyed the sound of each other's company Friday, August 12th. 
  May through August, the LAC hosts a free Music & Wine event every second and third Friday of the month. This free event features live music as well as beverages. 
"Compared to other events, it is less formal and more casual therefore making it more enjoyable," vendor Duane Sergent said.
  Patrons gather at sundown with their lawn chairs and joyous attitudes, looking forward to a night full of music. A few artists who have played at Music & Wine include Jimmy Overton, Micah Fletcher, and Chris Hanks. 
"I think the community has been enjoying it quite a bit," LAC President Stephanie Koren said. "Everyone comes out to enjoy the socialization of friend-raisers and the good music as well as the wine. Which gets more people interested in the Arts Center." 
  Although Music & Wine sounds like an adult event, it is actually a family event. The Louisa Arts Bus is there to teach children about arts and crafts while music plays in the background. The LAC created the Mobile Arts Outreach Program, which supports the Louisa Arts Bus by providing donations to bring art to Louisa's children. During the summer, the program also partnered with the LCPS Community Cafe to give the children free lunches.
  "Music & Wine is one of my favorite things to do here," LAC Events Coordinator Gina Harris said.
 Harris has been coordinating Music & Wine for over five years. Originally, the event was on Thursdays, but she moved it to Fridays to bring more patrons. She also plans to schedule art classes on the night of Music & Wine to enhance everyone's experiences. Next year, she hopes to plan more gallery openings on the days of Music & Wine. 
 "I'm excited to get new artists that have never been here before, with different types of music genres," Harris said. 
Now that Music & Wine is over for the 2022 season, the LAC is looking forward to hosting more events such as the Silver Tie Gala, The Swon Brothers, and Tayla Lynn & Tre Twitty.